are pine forests in southern Wisconsin that have persisted since the last glacier receded some 10,000 years ago. Some of the finest examples of these ancient pine forests exist on the rugged rock outcroppings found on the land of the Malcolm Stack Foundation.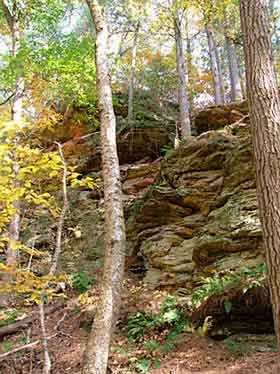 Described by the Wisconsin Department of Natural Resources as a "spectacular site and an increasingly rare natural community," the Foundation pine relics, part of the Ridgeway Pine Natural Area, are prized for their health and vibrancy on the soaring sandstone cliffs, numerous rock outcrops and shallow caves and rock shelters. These rocky outcrops have protected the pine relics from fire over the past ages, which allowed for both regeneration and many of the pines to reach old age.
In a forestry plan the DNR developed for the Foundation, the author said, "This is one of the most scenic spots this Forester as ever witnessed." He continued with, "Unique forest types, such as this, should be protected for the uniqueness they represent, as well as for the aesthetics that they provide."
The protection of these priceless pine relics are utmost on the Foundation agenda. In addition, forest interior birds such as barred owls, pileated woodpeckers, Swainson's and wood thrushes, scarlet tanagers, and various warblers and vireos benefit from protection of these natural areas on the Foundation land.
John Kotar, University of Wisconsin Forest Ecologist, states that pine relics "are extremely valuable and should be protected for two reasons. First they represent unique communities in terms of floristic composition and presumably also total biodiversity. These pines are unlike the northern pine forests because the associated flora is a mixture of southern and northern species, thus creating an ecosystem that is functionally different from any found in the north." This unique and rare ecosystem is integrated into the Foundation's education efforts. School tours, conservancy groups and nature lovers alike have benefitted from close-up views of this beautiful and historic place in the Driftless Area of southwestern Wisconsin.